March 7, 2019
International solo exhibition features art professor Geraldine Craig
Submitted by Department of Art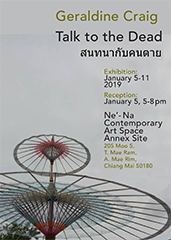 Geraldine Craig, professor of art, began 2019 with an international solo exhibition in Chiang Mai, Thailand.
The exhibition, titled "Talk to the Dead," was held at Ne'-Na Contemporary Art Space, Mae Rim, named by The Guardian as one of "10 of the best contemporary art spaces in southeast Asia." Craig showed new work of various media, including drawing, printing, fiber sculpture, and a socially-engaged work with bamboo umbrella skeletons and thread weaving titled "Transmitters."
Craig artist's statement about the work that accompanied the exhibition was the following:
"I had a dream I could talk to the dead, to my mother and father, to my friends who died young. Then I came to Mae Rim, where the space between the living and the dead stretched into a thin membrane, a murky water where ghost fish rose from the depths and almost broke the surface. A place where the reverberation of large teak leaves falling to the ground at night seemed to be voices from heaven, a place that asked me to consider my existence in terms relative to the largess of nature beyond a single human life. The work is a response in this short time to the complexity of listening to the dead and how to speak back in a universal language with common materials, looking for a place to inhabit beyond longing and fear."
Craig also was an international artist-in-residence at Ne'-Na for two months, selected by international peer review.