Architectural engineering students awarded top scholarships

Thursday, March 7, 2019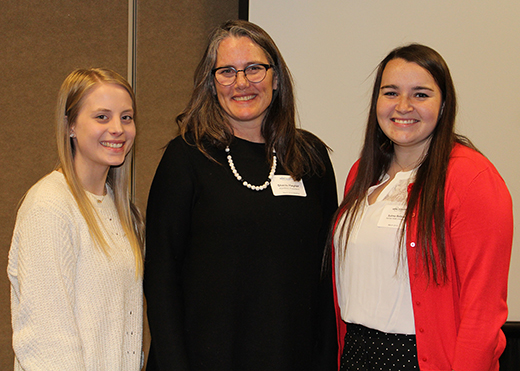 From left, Juliannna Price, senior; Sheila Hayter, ASHRAE president; and Syndey Bellows, senior. | Download this photo.


MANHATTAN — Two Kansas State University architectural engineering students have been awarded ASHRAE national scholarships for 2019-2020, and two others received Kansas City ASHRAE chapter scholarships. All of the scholarships were announced at the society's Kansas City chapter meeting March 4.

Ethan Engle, junior, Richmond, has received the $10,000 Reuben Trane Scholarship; and Sydney Bellows, senior, Garden City, has received the $5,000 Lynn G. Bellenger Engineering Scholarship.

On the chapter level, Eric Ashlock, junior, St. Joseph, Missouri, received the $3,000 KC ASHRAE Past President Scholarship; and Julianna Price, senior, Burden, received the $1,000 KC ASHRAE Local Chapter Scholarship.

The awards were presented by current ASHRAE President Sheila Hayter, a 1990 graduate of Kansas State University in mechanical engineering.

"This was another great showing by our students in qualifying for and receiving these top scholarships at both levels of ASHRAE recognition," said Julia Keen, professor and Bob and Betty Tointon engineering chair of architectural engineering and construction science at Kansas State University, as well as current ASHRAE vice president. "We offer a well-rounded education through our programs in the GE Johnson Department of Architectural Engineering and Construction Science as evidenced by this outcome of competing for and winning these academic awards."

ASHRAE is a global society advancing human well-being through sustainable technology for the built environment. The society and its more than 56,000 members worldwide focus on building systems, energy efficiency, indoor air quality, refrigeration and sustainability.