March 6, 2019
Airport management student at K-State Polytechnic wins Airports Council International scholarship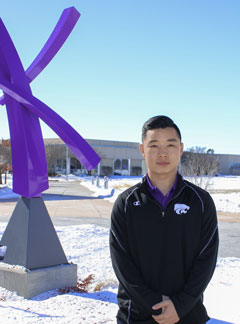 An airport management student on the Kansas State University Polytechnic Campus is being recognized for his academic accomplishments and dedication to his field with an award from his industry.
Jay Li, junior, Morris Plains, New Jersey, has been selected to receive the Airports Council International-North America, or ACI-NA, 2019 Commissioners' Committee Scholarship. The award was created more than 25 years ago to financially assist students with the specialized education that is necessary to work in airport management or airport operations. ACI-NA says to effectively run modern aviation facilities, students must possess high levels of management, operational and accounting skills coupled with aviation experience. To be considered for the scholarship, Li was required to maintain a minimum GPA of 3.0 and demonstrate academic excellence, leadership and a desire to positively impact the airport industry.
"I am honored to have been chosen for the ACI-NA Commissioners' Committee Scholarship and I am happy to see that my personal and academic achievements are being recognized," Li said. "This scholarship will help reduce the financial burden and let me continue to focus on serving the K-State Polytechnic student body and campus community through my current leadership roles."
Li has enriched his education by acting as vice president of the campus's student chapter of American Association of Airport Executives and interning with the Salina Airport Authority and the Morristown Airport in New Jersey. This summer, he will return to the Morristown Airport for a full operations internship. Li also is a student ambassador, the diversity affairs director for the Student Governing Association, and a resident assistant. He is slated to graduate in May 2020.
The ACI-NA is the largest of five worldwide regions of Airports Council International. The organization's goal is to be the voice of airports, advocating policies and providing services to help strengthen commercial airports' ability to serve passengers and customers as well as operate more safely and efficiently.