March 6, 2019
Kinesiology student awarded National Strength and Conditioning Association's Women's Scholarship
Submitted by College of Human Ecology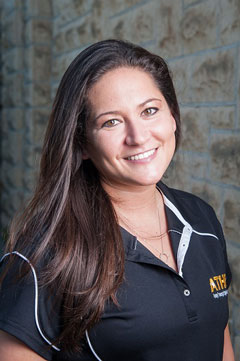 Brittany Hollerbach, doctoral student in kinesiology, has been named a recipient of the National Strength and Conditioning Association Foundation's Women's Scholarship for 2018. Hollerbach was selected by the association's Foundation Scholarship Committee after a thorough evaluation process of all applicants. The $1,500 scholarship is designed to support women, ages 17 and older, to enter the field of strength and conditioning.
Hollerbach is a project coordinator at the Institute for Biobehavioral Health Research through the National Development and Research Institutes Inc. She works on studies being conducted by the Center for Fire, Rescue and EMS Health Research and the Center for Military and Veteran's Health Research. Her current work focuses on firefighter health and a military PTSD clinical trial. Hollerbach has been working on both military and firefighter projects with NDRI since she started her master's degree. She has an interest in firefighter health in general and female firefighter health specifically, given her background as a former firefighter. She has experience teaching at the fire academy and is well-connected to the fire service community in Kansas City. Hollerbach also has extensive experience working with military personnel through the Army Training at High-Intensity Study, a cluster randomized clinical trial funded by the National Institutes of Health and led by Katie Heinrich, K-State associate professor of kinesiology, in collaboration with the Institute for Biobehavioral Health Research/National Development and Research Institutes investigators.
"Congratulations to Brittany for this well-deserved honor," said Matt Stock, National Strength and Conditioning Association Foundation Board president. "She is an outstanding student with an extremely bright future. We are proud to support Brittany in her studies to be a future leader of the strength and conditioning industry."
"Brittany's receipt of this award is well-deserved and celebrates her clear commitment to strength and conditioning research, particularly for female tactical athletes," Heinrich said. "She is an outstanding example of the high-quality student-researchers we prepare at Kansas State University."
The National Strength and Conditioning Association Foundation was founded in 2007 with the aim of supporting the advancement of strength and conditioning practical applications. The foundation is a nonprofit organization committed to providing funding to its members taking part in educational and research endeavors.
Since its establishment, the foundation has awarded 120 grants and 440 scholarships, totaling more than $2 million to outstanding individuals within the strength and conditioning community. The foundation is one of the few foundations that fund work at the master's level and across all levels up to senior investigators, as well as one of the few sources that funds work in the strength and conditioning fields. A major goal of the foundation is to continue to maximize assets to increase grants and scholarships for its members.