March 1, 2019
Strengths workshops offered for faculty during Strengths Week 2019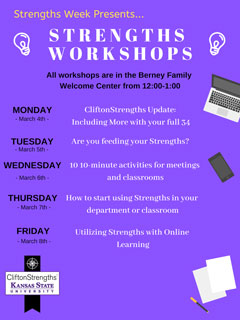 CliftonStrengths is a program used internationally for individuals, classrooms, businesses and corporations to improve productivity and development based on one's "Strengths." We use it at K-State to improve department collaboration and student success.
Faculty are invited to participate in workshops March 4-8 for Strengths Week 2019. The purpose of these workshops is to familiarize faculty with Strengths and how you can use it in departments and classrooms.
The following workshops will take place from noon to 1 p.m. at the Berney Family Welcome Center:
March 4: "CliftonStrengths Updates: Including More with your full 34."
March 5: "Are you feeding your Strengths?"
March 6: "10 10-minute activities for meetings and classrooms."
March 7: "How to Start Using Strengths in your Department or Classroom."
March 8: "Incorporating Strengths in Online Instruction and Student Services."
For more information, visit k-state.edu/strengths.