February 27, 2019
APDesign student earns top honors in Steelcase NEXT competition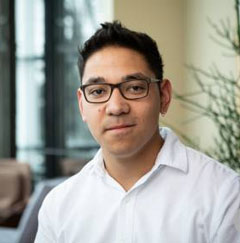 Kanoa San Miguel, a fourth-year graduate student in interior architecture & product design in the College of Architecture, Planning & Design, or APDesign, received top honors in the NEXT competition sponsored by Steelcase. San Miguel was awarded a $2,500 scholarship with an additional $2,500 for the department.
More than 900 students from all over the country competed and narrowed down to five finalists and five honorable mentions. The five finalists were invited to a three-day event before a panel of judges at the Steelcase headquarters in Grand Rapids, Michigan. Students presented their projects to the judges, defended their concepts, and communicated their design decisions with a Q&A that followed. Judging was very difficult as all of the competitors exceeded expectations; however, it was San Miguel who ultimately prevailed with his fourth-year studio project.
Michelle Wempe, professor of practice in the interior architecture & product design department, challenged students to design a 15,000-square-foot office environment to support changing behaviors and expectations in the workplace.
"Kanoa is a talented student; he has the ability to articulate a solid concept, sketch his ideas, and ultimately, create beautiful renderings that communicate his design solution," Wempe said.
Coming into the final presentations, each finalist was on equal footing and it was how clearly — and convincingly — each student articulated why their solution fulfills the client's business objectives as well as how it supports the needs of all the NEXT occupants that determined the overall winner.
"Kanoa's project reflects a level of care and holistic design that we strive for in all of our students," said Nathan Howe, IAPD department head. "I couldn't be more proud of his accomplishment in winning this national competition."
Steelcase offers a wide range of architecture, furniture and technology products and services designed to help people reach their full potential. Their comprehensive portfolio is anchored by three core brands: Steelcase, Coalesse and Turnstone. Together with their partners, they design spaces to help people work, learn and heal.