February 14, 2019
Need a Valentine's Day Gift?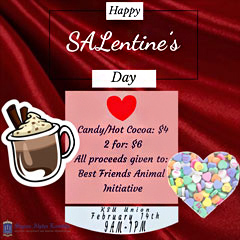 K-State's Sigma Alpha Lambda National Leadership and Honors Organization will host SALentine's Gift Sale from 9 a.m. to 1 p.m. Feb. 14 on the first floor of the K-State Student Union.
Candy and hot chocolate kits will be on sale for $4 — or two for $6 — and cash or Venmo will be accepted.
Profits will support Best Friends, a nonprofit organization dedicated to making every animal shelter in America no-kill by 2025.
Stop by and get a gift to show your appreciation to the friends and/or significant others in your life.