February 8, 2019
Provost Taber to present colloquium on political behavior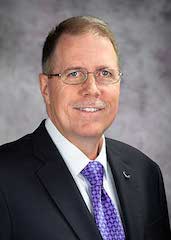 The political science and psychological sciences departments will host Provost Charles Taber for a joint departmental colloquium titled "The illusion of choice in political behavior" at 4 p.m. Monday, Feb. 11, in 1088 College of Business Building. Because of limited seating, the talk also will be streamed live.
Taber will review research on the hidden causes of political behavior and will provide evidence that "Conscious thinking is the cart and not the horse, in which case our explicit reasoning processes serve to rationalize behavior rather than to cause it. Deliberation and choice may feel like control, but this feeling of volition is often an illusion."
Working in the field of political psychology, Taber has published more than 50 articles and is known for his pioneering research on motivated reasoning in politics as well as his contributions on the computational modeling of these processes. His 2013 book titled "The Rationalizing Voter" received the Robert E. Lane Book Award and Book of the Year Awards from the Political Psychology Section and Migration and Citizenship Section of the American Political Science Association.
Taber earned his doctorate in political science from the University of Illinois, Urbana-Champaign, and his bachelor's degree in political science from East Tennessee State University.