Kansas State University Polytechnic Campus Scholarship Patrol travels around Kansas
Friday, Feb. 8, 2019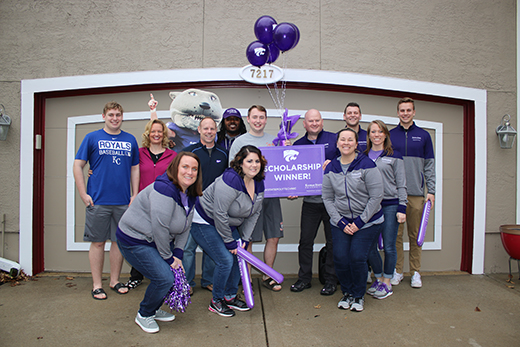 The Kansas State University Polytechnic Campus Scholarship Patrol surprises scholarship recipients and welcomes students to the Polytechnic family. | Download this photo.


SALINA — Kansas State University's Polytechnic Campus implemented a new initiative to engage and welcome students to the Polytechnic family: the Kansas State Polytechnic Scholarship Patrol.

Inspired by the Publisher's Clearinghouse model, a crew of enrollment management and marketing team members traveled across the state of Kansas, surprising scholarship winners at their home and work. The patrol awarded more than $228,000 in scholarships to 22 students in 13 cities.

"Having the ability to provide scholarships to deserving students, knowing we are changing lives for the better, this is why we do what we do," said Christopher Smith, Kansas State Polytechnic executive director of enrollment management, marketing and financial aid. "I could not be more proud of these students and am looking forward to having them on the Polytechnic Campus this fall."

Family members and colleagues worked with Kansas State Polytechnic to schedule the stops and ensure the visits remained a surprise for scholarship winners. Stops were made in Andover, Delphos, Kansas City, Leawood, Leonardville, Manhattan, Newton, Overland Park, Salina, Shawnee, Topeka and Wichita, as well as in Kansas City, Missouri. The Kansas State Polytechnic Scholarship Patrol made its rounds on Jan. 26 and Feb. 2.

In all, the 11-member patrol traveled 1,005 miles in 18.5 hours.

"Charlie was truly surprised," said Roxanna Rusco, mother of Charlie Rusco, a 2019 scholarship recipient and future Kansas State Polytechnic professional pilot student from Topeka. "So thoughtful that you all take the time to recognize these future students."

For more about scholarships or degree options, visit polytechnic.k-state.edu/scholarships or contact the Office of Admissions at 785-826-2640.