November 16, 2018
K-State Sales Team brings home top individual, third-place team awards from International Collegiate Sales Competition
Submitted by Brent Fritzemeier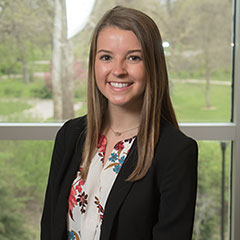 The Kansas State University Sales Team brought home a pair of trophies from last weekend's International Collegiate Sales Competition in Orlando, Florida, the largest and most prestigious university sales competition in the world.
Abbie O'Grady, junior in marketing, Overland Park, beat out a field of 158 competitors to win first place in the individual competition. O'Grady's win marks the second year in a row that K-State has won first place individual honors at the ICSC.
In the team competition, O'Grady was joined by senior in communication studies Megan Kalkofen to form the K-State team, which finished in third place against a field of 80 of the top university sales programs in the world.
Sales competitions allow students to test their selling skills against their peers from other top sales schools through role-playing scenarios, including cold calling, case competitions and speed selling. Marketing instructor David Lehman is the head coach for the K-State team, with Lanessa Aurand, junior in marketing, also traveling with the team as a student coach for this competition.
"We couldn't be prouder of Abbie and Megan's performance at the International Collegiate Sales Competition," Lehman said. "Having success in these competitions helps bring recognition to what we are doing at K-State to prepare students for successful and fulfilling careers in sales. They also provide a great opportunity for our students to network with their peers and interact with employers from around the country at career fairs and workshops."
The K-State Sales Team is housed in the College of Business Administration's National Strategic Selling Institute, which has been named one of the top sales programs in the country for seven straight years by the Sales Education Foundation. Students can earn a certificate in professional strategic selling from the National Strategic Selling Institute, which is open to all majors at the university. The certificate program introduces students to the fundamentals of sales and, through the innovative curriculum and sales labs, allows students to develop the skills needed to be successful. Starting this fall, K-State became just the 19th university in the U.S. to offer a major in sales.
For more information on the National Strategic Selling Institute, contact kstatesalesprogram@k-state.edu.