November 5, 2018
Kansas City Sports Commission CEO Kathy Nelson to speak in Sports and Entertainment Management Speaker Series
Submitted by Brent Fritzemeier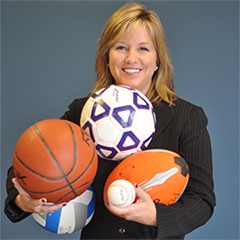 Kathy Nelson, president and CEO of the Kansas City Sports Commission, will be the next speaker in the Sports and Entertainment Marketing Speaker Series.
Nelson's presentation is scheduled for Tuesday, Nov. 6, and will begin at 11:30 a.m. in the College of Business Building Lecture Hall.
The commission works to attract, retain and facilitate sporting events in Kansas City, including the Big 12 Men's and Women's Basketball Championships, the Kansas City Marathon and the 2015 Royal's championship parade. Nelson was named as one of the Women Who Mean Business by the Kansas City Business Journal and was No. 5 on the Kansas City Star's list of the 20 Most Influential Sports Figures in Kansas City.
The speaker series is organized by marketing professors Doug Walker and Janis Crow to support their MKTG630: Sports Marketing and MKTG625: Entertainment Marketing courses, as well as the college's new business of sports and entertainment certificate program. All speaker series events are open to visitors and no ticket is required.