College of Veterinary Medicine selects 2018 class of Early Admission Scholars

Monday, Nov. 5, 2018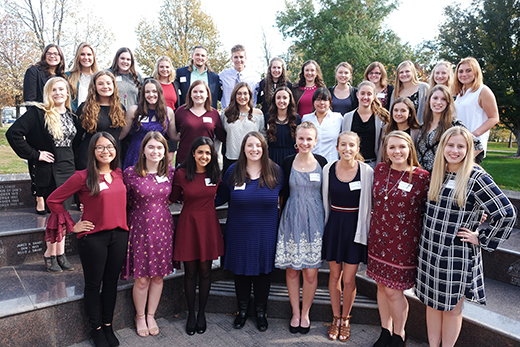 The Kansas State University College of Veterinary Medicine's 2018 Early Admission Scholars. Front row, from left: Erin Cocjin, Mason Loy, Mira Bhagat, Allison Burnett, Kathleen Fitzpatrick, Madeline Myrick, Lauren Greiner and Elizabeth Seidl; middle row: Claire Stastka, Heidi Anderson, Hannah White, Lauren Bridson, Jayden Hanna, Kirsten Stous, Cheyenne Lozano, Greta Pereira, Grace Calo and Sarah Timmerman; and back row: Elizabeth Buller, Rachel Brown, Elise Hesseltine, Georgia Wilde, Brooks Nichols, Caleb Brezina, Brittany Salisbury, Julia Gross, Lilli Heinen, Ashley Kragelund, Abigail White, Lucy Schermerhorn and Shelby Watkins. | Download this photo.


MANHATTAN — A group of 31 Kansas State University undergraduate students will have a special opportunity to fulfill their dreams of becoming veterinarians. The College of Veterinary Medicine recognized these students for being selected in its Early Admission Program at an afternoon ceremony Oct. 26 in Trotter Hall.

Established in 1999, the Early Admission Scholars program has recruited the best and brightest undergraduate students who are interested in studying veterinary medicine. Upon acceptance in the program, students must complete all of their science prerequisite courses at Kansas State University to be guaranteed admission into the College of Veterinary Medicine.

"The young men and women inducted into the Veterinary Scholars Early Admission Program represent the top 5 percent of Kansas State University students," said Callie Rost, assistant dean of admissions for the College of Veterinary Medicine. "Being selected for this program, once they meet the requirements, guarantees them a position in the Doctor of Veterinary Medicine program, which is a true advantage. We generally receive around 1,100 applications for the 112 seats in the first-year class."
Successful candidates in the Early Admission Scholars program must maintain a 3.3 grade point average during completion of the science prerequisites and complete all of their 64 hours of prerequisites by the end of the spring semester before beginning the Doctor of Veterinary Medicine curriculum in the fall, and submit graduate record examination scores. The science courses on the prerequisite list must be completed at Kansas State University.

The College of Veterinary Medicine assigns a veterinary student mentor to each Early Admit Scholar to stimulate career and academic development and to provide orientation and access to college activities. The pre-veterinary students attend regular meetings during the academic year to develop a sense of community and share their progress.

The following Kansas State University students, all pre-veterinary medicine majors and first-year undergraduate students, are members of the 2018 class of Early Admission Scholars:
Elizabeth Seidl, De Soto.
From Greater Kansas City: Greta Pereira, Leawood; Allison Burnett, and Lilli Heinen, both from Olathe; and Mira Bhagat, Lauren Bridson and Erin Cocjin, all from Overland Park.
From Manhattan: Elizabeth Buller, Mason Loy, Cheyenne Lozano,Madeline Myrick, Brooks Nichols, Abigail White and Georgia Wilde, sophomore.
Brittany Salisbury, Paola: Jayden Hanna, Richfield; Rachel Brown, Topeka; and Lucy Schermerhorn, Wamego.
From out of state:
Claire Stastka, Fremont, California; Shelby Watkins, Atlanta, Georgia; Kathleen Fitzpatrick, Northbrook, Illinois; Sarah Timmerman, Dubuque, Iowa; Heidi Anderson, Chesterfield, Missouri; Caleb Brezina,Bellwood, Nebraska; Ashley Kragelund, Indianola, Nebraska; Lauren Greiner, Papillion, Nebraska; Grace Calo, Floral Park, New York; Julia Gross, Tulsa, Oklahoma; Elise Hesseltine, Orange Grove, Texas; and Hannah White, Plano, Texas.