November 1, 2018
Craft named outstanding faculty member for NASPA IV-West region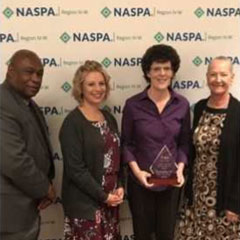 Christy Moran Craft, associate professor of student affairs in the College of Education, was recently recognized as the Outstanding Faculty Member for NASPA IV-West, a region that spans 10 Midwestern states and two Canadian provinces.
Craft was presented with the award at the NASPA IV-West conference Oct. 24 in Wichita. The award is reserved for faculty members who have contributed significantly to student affairs professionals while contributing to NASPA as a professional organization. Craft has served as the region's spirituality and religion knowledge community representative, as coordinator for the national NASPA case study competition and as a NASPA faculty mentor.
Amy Sellers, a doctoral student in student affairs, nominated Craft after taking several of her classes — Principles of College Student Personnel Services, College Student and the College Environment, Higher Education Law and Higher Education Finance.
"It is evident that Dr. Craft loves what she does," Sellers said. "She is a wonderful professor both in-person and online because, in both realms, she connects with students and allows them to guide the discussion from their own experiences, while adding examples from her own experiences in residence life, advising, and teaching in higher education. She is a great teacher, a great listener, she is caring, she is kind, and she's a helpful resource for all her students."
Craft said the award came as a pleasant surprise.
"I really felt honored when I found out that I had been nominated for the award," Craft said. "While I enjoy doing my research, my favorite responsibilities here at K-State are those of teaching and advising graduate students. It is rewarding knowing that students in our program feel prepared for the demands of the student affairs profession in part due to the experiences they have had in my classes. I'm grateful for the opportunity that I have to be a part of their lives as they prepare to further their careers."