May 4, 2018
Beloved history faculty member retires after 53 years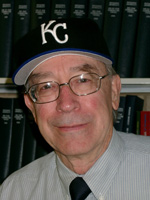 Robert Linder, a university distinguished professor, is retiring after 53 years in the history department at Kansas State University.
The department will host a tree planting and dedication ceremony honoring and celebrating Linder's amazing career at 3:30 p.m. Friday, May 4. We will be planting and dedicating a Greenspire Linden tree. The planting and dedication ceremony will be on the south side of Hale Library, just west of the ground floor entrance and opposite Eisenhower Hall, where Linder spent the vast majority of his impressive career.
Linder joined the history faculty in 1965, ultimately attaining the rank of university distinguished professor. He is a renowned expert on the history of Christianity who earned the respect of his students and colleagues alike during his long career. This career included ties forged with religious history scholars at Macquarie University in Australia, which helped earn him the nickname "Crocodile Bob."
The Robert D. Linder Undergraduate Scholarship in the history department was established by a group of his former students who took it upon themselves to raise the money necessary to create the scholarship in his honor. As a longtime member of the history department's Undergraduate Scholarship Committee, he has interviewed successive generations of promising students worthy of scholarship support. As he entered his fifth decade of service at K-State this process reached the point where he and the committee were interviewing the grandchildren of students he taught at the beginning of his career. These students came bearing their grandparents' greetings and fond recollections of their times in Linder's classes. As his career entered its twilight, a cohort of his former doctoral students honored him by publishing an edited volume, "Civil Religion and American Christianity," to which each contributed an essay and thus ensured that Linder will continue to influence future generations of students even after entering retirement.
In addition to his scholarly credentials, Linder also was a former professional baseball player who left the sport for academia touting a lifetime batting average of better than .300. This experience inspired the creation of one of his most popular undergraduate courses, the History of Baseball. When a new undergraduate academic program advisor was assigned to the history department in 2017 and given an office next to Linder's, she mentioned it to her husband, he couldn't believe her good luck. She had an office next to "Crocodile Bob," the man he took the History of Baseball with and one of the best professors he had ever had.