May 4, 2018
Theatre professor contributes chapter on writer Sam Shepard
Submitted by Shannon Blake Skelton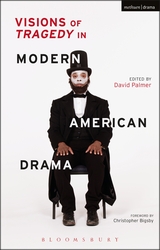 Shannon Blake Skelton, assistant professor of theatre, contributed a chapter on the American playwright Sam Shepard to the recently published collection "Visions of Tragedy in Modern American Drama."
In the collection, Skelton joins faculty from New York University, Howard University, Northwestern University and Harvard University in exploring the contours of tragedy within the spectrum of American theatre.
According to the publisher Bloomsbury, "This volume responds to a renewed focus on tragedy in theatre and literary studies to explore conceptions of tragedy in the dramatic work of seventeen canonical American playwrights. The chapters explore whether there is a distinctively American vision of tragedy developed in the major works of canonical American dramatists and how this may be seen to evolve over the course of the twentieth century through to the present day."