May 1, 2018
University/community Knowledge Based Economic Development partnership celebrates 10th anniversary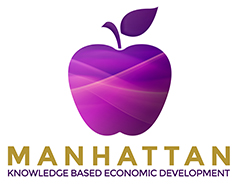 The university/community Knowledge Based Economic Development, or KBED, partnership will celebrate its 10th anniversary from 4-6 p.m. Wednesday, May 2, at Blue Moose.
KBED is a unique partnership of civic, academic and private sector entities working together to support new and growing companies in Manhattan and the region. KBED was conceptualized in May 2008 and the partnership now plays an instrumental role in defining the knowledge-based economic development strategy for the Manhattan region and support K-State's land-grant mission.
Richard Myers, K-State president, and Lyle Butler, KBED chair, president/CEO, Manhattan Area Chamber of Commerce will provide formal remarks beginning at 5:15 p.m. If you are interested in attending, please contact Kiley Moody at kmoody@k-state.edu or 785-532-3892.
The KBED partnership includes the Manhattan Area Chamber of Commerce, K-State Institute for Commercialization, KSU Foundation, North Central Regional Planning Commission, K-State Research Foundation, Pottawatomie County Economic Development Corporation, K-State and the city of Manhattan.