Staley School of Leadership Studies selects first cohort of Cargill Fellows
Tuesday, May 1, 2018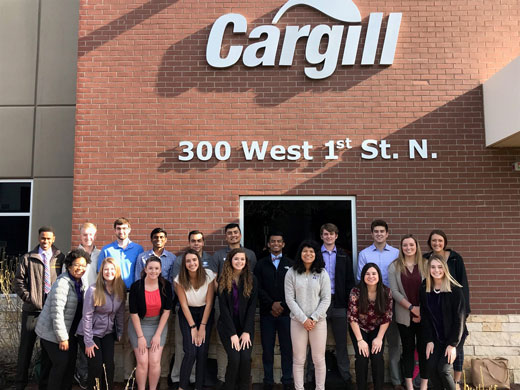 Kansas State University's Cargill Fellows, front row from left: Alexis Cushshon, Clara Wicoff, Shannon Bellamy, Courtney Byrne, Mardi Traskowsky, Ingrid Silva, Regan Zaremba and Sara Gammon; and back row from left: Jared Sterling, Kirkland Lambert, Ethan Wood, Sai Marre, Francisco Cardoza, Hector Rojas, Kevin Hernandez, Noah Scrimsher, Cade McCoy, Jenna Goetzmann and Katheryn Gregerson. Not pictured is Kinzie Alexander. | Download this photo.


MANHATTAN — The Staley School of Leadership Studies at Kansas State University, in partnership with Cargill, has selected 20 students as the inaugural cohort of Cargill Fellows.

The Cargill Fellows program at Kansas State University will create a supportive environment to prepare and empower students to exercise leadership in their communities and global workplaces. Fellows are students in the colleges of Agriculture, Business Administration and Engineering with an interest in professions that help nourish the world.

The fellows program will provide students with a yearlong leadership development experience and the preparation to begin their career with a unique advantage beyond their technical preparation. Their exposure to and practice with skills such as adapting to change, engaging in diverse environments and critical thinking will cultivate professional competencies that will prepare them for a successful launch into industry.

The following Kansas State University students have been selected for the program:

From Greater Kansas City: Jenna Goetzmann, agribusiness and global food systems leadership, Gardner; Francisco Cardoza, management information systems, and Ingrid Silva, feed science and management, both from Kansas City; Cade McCoy, mechanical engineering, Lenexa; Ethan Wood, operations and supply chain management, Olathe; and Sai Marre, finance, Overland Park.

Mardi Traskowsky, milling science and management and global food systems leadership, Herington; Shannon Bellamy, biological systems engineering and natural resources and environmental studies, Hutchinson; Clara Wicoff, agricultural economics and global food systems leadership, Iola; Regan Zaremba, mechanical engineering, Lawrence; Kinzie Alexander, agribusiness, Logan; Kirkland Lambert, industrial engineering, Manhattan; Noah Scrimsher, agribusiness, Oskaloosa; and Kevin Hernandez, finance and accounting, Topeka.

From out of state: Courtney Byrne, human resource management, Morton, Illinois; Hector Rojas, animal sciences and industry, South Elgin, Illinois; Sara Gammon, agricultural economics and global food systems leadership, Drexel, Missouri; Alexis Cushshon, architectural engineering, Florissant, Missouri; Katheryn Gregerson, food science and global food systems leadership, Herman, Nebraska; and Jared Sterling, finance, Houston, Texas.

For more information on the Cargill Fellows or to learn about how you can get involved or support the program, contact Amanda Lee at 785-532-6085 or amandajb@k-state.edu.