May 1, 2018
K-State has been ranked among the best hospitality management programs in the country
Submitted by College of Human Ecology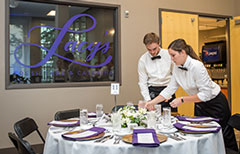 Kansas State University has been ranked among the best hospitality management programs in the country.
The ranking from College Choice, a leading authority in college and university rankings and resources, put K-State in 22nd place for Best Master's in Hospitality Management. The full ranking is available online.
The hospitality management department is the only program that offers both undergraduate and graduate programs in hospitality management and the only program accredited by the Accreditation Commission for Programs in Hospitality Administration in Kansas. The program is recognized nationally and internationally for producing quality graduates who work around the world in the hospitality industry. In 2018, the department also was ranked No. 18 for Best Hospitality Management Degree programs by Best Value Schools and was ranked No. 32 for Best Hospitality and Leisure Management programs by the QS World University Rankings.
"We are so pleased that the quality of education in our master's program was recognized by College Choice," said Michael Ottenbacher, department head.
According to College Choice, the ranking is based on institutional reputation, graduation rates, selectivity and faculty resources. The data from their ranking comes from the National Center for Education Statistics' IPEDS database, U.S. News & World Report, Payscale and individual college websites.
College Choice noted that K-State's program "offers both comprehensive training and also highly specific preparation for students with particular interests in the industry. It is appropriate for both mid-career professionals seeking to improve their credentials and also recent graduates looking to build a competitive foundation for their career."