April 20, 2018
Millán organizes national plenary, is re-elected as NACCS' Chicana Caucus co-chair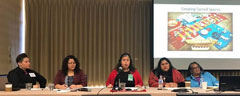 Isabel Millán was re-elected for another two-year term to the National Association of Chicana and Chicano Studies, or NACCS, as Chicana caucus co-chair along with co-chair Yvette Saavedra, assistant professor of history at the California State University, San Bernardino. This year's theme was "The Queer Turn." The conference was April 4-7 in Minneapolis, Minnesota. The Chicana Caucus is the largest NACCS caucus.
Millán and Saavedra organized and moderated the Chicana Caucus Plenary "Reclaiming Power: Centering Queer Chicana Indígena Resistance and Histories," which included the following abstract: Early Chicana Lesbian feminist scholars propelled the analysis of patriarchal, masculinist, and heteronormative narratives. The Queer Turn in Chicana/o/x Studies continues the critical interrogation of how power is replicated within institutional, cultural, and historical means. Despite queer theory's disruptions of power, it does not fully account for the continued existence of multiple genders and sexualities within indigenous societies. In centering the formation of Queer Chicana Indígena histories and identities, our plenary speakers provide critical interventions that help shape the contours of Chicana/o/x Studies by further complicating our understanding of identity and cultural formation as sites of resistance and decolonization.
Additionally, Millán and Saavedra inaugurated the Chicana Caucus Publication/Creative Works Recognition AND co-facilitated two caucus meetings and awarded three student scholarships.