April 17, 2018
Summer intersession course on adolescent substance use
Submitted by Michelle Washburn-Busk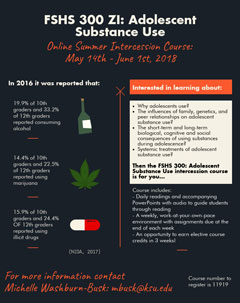 Do you need an elective? Do you want to complete a three credit course in just three weeks? Try FSHS 300 ZI: Adolescent Substance Use. The class runs May 14-June 1.
This three-week online course will examine a variety of topics related to the cause and treatment of adolescent substance abuse, with a special focus on alcohol use. The course will cover the clinical definition of substance abuse, genetic components related to substance abuse or dependence, familial influences on the development of alcohol abuse behaviors, and common practices in the family treatment of adolescent alcohol abusers. Students will be exposed to research on teen substance abuse and will be introduced to an overview of the family therapy approaches to treatment. This course is interactive and will include online discussions of various substance abuse topics.
The course number needed to register for this class is 11919.
For more information contact Michelle Washburn-Busk at mbusk@k-state.edu.