April 13, 2018
Reminder: Wildcat Warriors hosting 5K Saturday, April 14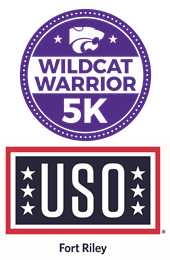 The K-State Wildcat Warriors, a registered student organization, will host the Wildcat Warrior 5K at 9 a.m. Saturday, April 14, at Tuttle Creek State Park.
Registration is available online. The registration cost has been cut in half for students, so it is only $15. Students can use the code "STUDENT" to receive the discount. On-site registration will be available between 8-9 a.m. on April 14.
The K-State Wildcat Warriors is a campus organization comprised of students pursuing a commission in the U.S. Armed Forces. The foundational goal of the Wildcat Warrior 5K is to give back by honoring our nation's service members and their loved ones. This year, the Wildcat Warriors are donating their proceeds to United Service Organization Fort Riley. The USO strengthens America's military service members by keeping them connected to family, home and country, throughout their service to the nation. USO Fort Riley is the only center supporting the entire state of Kansas.
Please contact the Wildcat Warriors via Facebook or email kstatewildcatwarriors@gmail.com for more information.