April 13, 2018
Industrial and manufacturing systems engineering professor receives first place in dissertation award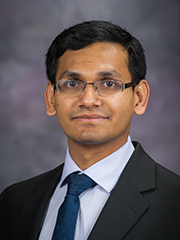 Ashesh Sinha, Kansas State University assistant professor of industrial and manufacturing systems engineering, received the first place Pritsker Doctoral Dissertation Award from the Institute of Industrial and Systems Engineers for his work, "Stochastic Models for Strategic Sourcing in Energy Industry."
Sinha will receive the award institute's Annual Conference and Expo 2018 in Orlando in May.
Sinha completed his doctorate in industrial engineering at the University of Wisconsin, Madison. He joined the K-State faculty in August 2017.