April 11, 2018
Yelich Biniecki receives College of Education's second ERASMUS Plus grant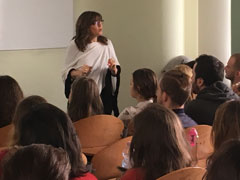 Susan Yelich Biniecki, associate professor of educational leadership, received her second ERASMUS Plus grant from the European Commission when she provided lectures and workshops at the University of Opole in Poland last month.
The European Region Action Scheme for the Mobility of University Students, or ERAMUS, program was formally adopted in 1987 with the goal of encouraging students in the European Union, or EU, to seek international experiences. The EU has invested billions in the program and has expanded to offer experiences to students and faculty outside of the EU. Yelich Biniecki's exchange was coordinated through the college's educational leadership department with support from K-State's Office of International Programs.
More specifically, Yelich Biniecki received an ERASMUS Plus grant, which included mobility funds so she could present lectures and workshops for Polish and visiting international students participating in the ERASMUS Programme. While at the University of Opole in March, Yelich Biniecki lectured and conducted a workshop on the role of meta-communication in creating inclusive learning environments.
"I was very impressed with how students deeply analyzed their own behavior and past experiences in formal and informal learning environments," Yelich Biniecki said. "I think through brave sharing with each other, they were able to gain important insights about how, as leaders and practitioners, they can foster learner engagement."
In the fall, two faculty members from Opole University will visit Kansas State University. Marzanna Pogorzelska, assistant professor, will lecture on intercultural education and Izabella Pisarek, Opole University provost, will meet with administrators to learn more about K-State initiatives focusing on diversity and inclusion. Their visit also is underwritten by the Erasmus Programme.
"We look forward to continued exchange and learning with faculty and students," Yelich Biniecki said.