Student-written musical comedy opens April 12 in Purple Masque Theatre
Friday, March 30, 2018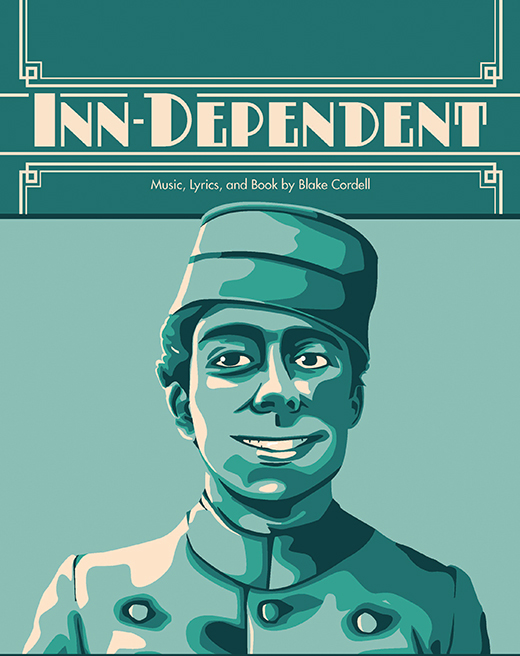 The student-written musical "Inn-Dependent" will be presented at 7:30 p.m. April 12-14 and 2:30 p.m. April 15 at Kansas State University's Purple Masque Theatre in West Stadium.


MANHATTAN — Kansas State University's School of Music, Theatre, and Dance will present "Inn-Dependent" April 12-15 in West Stadium's Purple Masque Theatre. Performance time is 7:30 p.m., except for April 15, which will be at 2:30 p.m.
The music, lyrics and book for the musical were written by Blake Cordell, Chicago, while a student at Kansas State University. Cordell graduated with a Bachelor of Arts in theatre design and a Bachelor of Music in composition in December 2017. "Inn-Dependent" was recognized nationally by the Kennedy Center American College Theatre Festival.
The Stackman Inn, a family-owned hotel struggling to get on its feet, is the setting. The passion of the family and the commitment of the small crew keep the hotel alive, but is passion without experience enough to keep a dream alive? New-hire Arty and commanding inspector Claire each have their own opinions on the matter. Mistakes are costly when one is risking everything in the game of business, so what does it take to bounce back?
Tickets are $11 for the general public; $9.75 for seniors, military, faculty and staff; and $7.75 for students and youth. They can be purchased online at k-state.edu/mtd/tickets or by calling 785-236-8638. Tickets may also be purchased one hour prior to the performance at the Purple Masque Theatre. All tickets, regardless of purchase method, include sales tax and are free from convenience fees.
The musical is directed by Trace Campbell, sophomore in theatre, Manhattan. The following Kansas State University students are members of the cast and production staff of "Inn-Dependent":
Brooke Merriam, senior in theatre, Derby, costume designer.
From Greater Kansas City: Ian Boyd-Duncan, sophomore in theatre, as Jeremy, and Lauren Taylor, sophomore in applied music, as Frankie Stackman, both from Olathe; and Tiffani Lawrence, senior in education-English, and theatre, Overland Park, choreographer.
From Manhattan: Michael Duncan, sophomore in theatre, as Arty; Jonah Ericson, senior in theatre and English, as Roger; Evan Heger, sophomore in food science and industry, as William Stackman; Alicia Monceaux, senior in theatre, as Claire; and Brigid Reilly, senior in theatre, props master.
Sterling Oliver, junior in theatre, Marysville, music director; Addie Price, sophomore in theatre, Scott City, stage manager; Alison Davids, freshman in theatre, Spring Hill, assistant stage manager; Brett Broadbent, junior in theatre, props master, and Breana Tiffany, freshman in theatre, assistant choreographer, both from Topeka; Drew George, senior in theatre, Uniontown, as Henry; and Lily Hurt, freshman in food science and industry, lighting designer, and Ceslie Parker-Waller, junior in theatre, as Sage, both from Wichita.
From out of state: Elizabeth Kritikos, junior in theatre, New Lenox, Illinois, as Natalie Stackman; Brett Boline, sophomore in pre-professional architectural engineering, Carl Junction, Missouri, as Gray; and
Annie Davis, sophomore in theatre, Hastings, Nebraska, scenic designer.