March 29, 2018
Sigma Alpha hosting annual dodgeball tournament April 5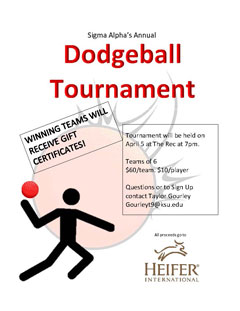 The Sigma Alpha Dodgeball Tournament will be at 7 p.m. April 5 at the Chester E. Peters Recreation Complex.
Proceeds will go to Heifer International, an organization that helps end poverty and hunger in developing countries.
The winning teams will receive gift certificates.
To sign up, contact Taylor Gourley at gourley9@k-state.edu.