March 26, 2018
Richard Hesse receives Howard Dunne Memorial Award from American Association of Swine Veterinarians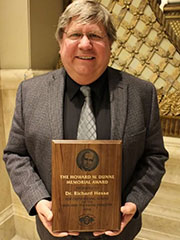 Richard Hesse, professor in the diagnostic medicine and pathobiology department in the College of Veterinary Medicine, was presented with the Howard Dunne Memorial Award at the 49th annual meeting of the American Association of Swine Veterinarians on March 5 in San Diego, California. This award is given annually to an association member who has made a significant contribution and rendered outstanding service to the association and the swine industry.
Hesse also serves as director of diagnostic virology at the Kansas State Veterinary Diagnostic Laboratory, or KSVDL. As director and researcher, Hesse's most recent focus has been on vaccine development for porcine circovirus2d-associated disease, or PCVAD, and the pathobiology of the porcine enteric coronaviruses — porcine epidemic diarrhea virus, PED, and porcine deltacorona virus, PDCoV. He currently is interested in developing rapid diagnostic assays and vaccines for zoonotic, foreign animal and emerging/re-emerging diseases. He has been on the faculty at Kansas State University since 2006.
"I am blessed to be able to work with so many talented and dedicated people across the swine industry," Hesse said. "To be recognized by them is the highest honor I have ever received and it means more to me than anyone will ever know."
"KSVDL is proud of Dr. Hesse's accomplishments for the swine industry and his additional areas of dedication that have improved veterinary diagnostics," said Jamie Henning, interim director of the Kansas State Veterinary Diagnostic Laboratory. "As a vital team member of KSVDL, his dedication to diagnostic service and research is appreciated by the KSVDL family. I could not imagine a more deserving person for this honor."
Hesse's scientific career began during his undergraduate education when he assisted in college laboratories at Huron College, as well as in the local medical center. He expanded his laboratory experiences and classical virology training while serving in the army at Fort Detrick — United States Army Medical Research Institute of Infectious Diseases, or USAMRIID — where he worked with highly hazardous pathogens in total containment facilities, BSL-4. After leaving the army, Hesse immediately began graduate studies at South Dakota State University with a focus on bovine respiratory viruses.
Hesse received a master's degree from South Dakota State University in 1983 and a doctorate from the University of Nebraska in 1993. He has authored or co-authored more than 100 publications, presentations, and/or patents and has led the development of at least 12 USDA-licensed vaccines.
Hesse worked for nine years as the manager of virology biologics for the R&D department at Intervet Inc. in DeSoto, Kansas. Prior to that he has been a principal scientist and group leader for Schering Plough Animal Health, Omaha, Nebraska; an associate research scientist and assistant research scientist for Solvay Animal Health — Salsbury Laboratories — in Charles City, Iowa; and a biological research assistant for the United States Army Medical Research Institute of Infectious Diseases at Fort Detrick, Maryland.
Hesse's other honors and awards include: the Army Distinguished Service Medal for Lassa Fever research, membership in the Gamma Sigma Delta honor society, and the Phi Zeta Honor society of Veterinary Medicine, the Schering Plough Excellence Award for development of a PRRS vaccine and the Kansas Veterinary Medical Association Distinguished Service Award.