March 16, 2018
Ken Odde receives KC Agricultural Business Council award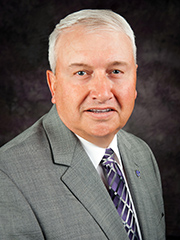 A Kansas State University researcher is being honored as one of Kansas City's two leading agricultural figures by the Agricultural Business Council of Kansas City.

Ken Odde, professor of animal sciences and industry in the College of Agriculture, will receive the Jay B. Dillingham Award for Agricultural Leadership and Excellence — the council's highest award — at the organization's luncheon on May 15.

Odde is being honored along with Lowell Mohler, former director of the Missouri Department of Agriculture.

"These individuals have had a positive and lasting effect on our community," said Robert Thompson, chairman of the Agricultural Business Council. "They are strong examples of what being an advocate for agriculture can accomplish."

Odde has spent his career serving in the animal science industry. For a decade, he led Kansas State University's department of animal sciences and industry, retiring as department head in January. In the role, he oversaw undergraduate enrollment grow from 793 students in 2007 to 1,226 students in 2017, as well as an increase in faculty and research productivity in the department.

Under his leadership, the department also added $32 million in new and renovated facilities.

Odde has authored or co-authored more than 250 refereed journal papers, proceedings and abstracts, experiment station publications and technical bulletins. He also has been an invited speaker at scientific, veterinary and producer meetings in more than 30 U.S. states and six foreign countries.

Odde also has served in leadership positions in several professional societies. From 2016-2017, he was president of the National Association for the Advancement of Animal Science — an organization that he helped found to increase advocacy for federal funding of research in animal agriculture. From 2000-2002, he served as trustee of the organization. He also served as secretary, president-elect and then president of the Western Section American Society of Animal Science from 1992-1994.

"The previous winners of this award are a distinguished group, and I am honored to receive this recognition," Odde said.

Odde received his bachelor's degree from South Dakota State University in 1973. He earned his master's degree in 1978, his doctor of veterinary medicine in 1982 and his doctorate in 1983, all from Kansas State University.

Odde joined Kansas State University's animal sciences and industry department in 2007.