March 12, 2018
Rachel Palinski earns postdoctoral fellowship at Plum Island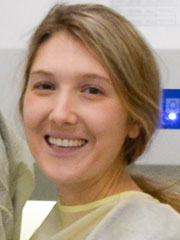 Kudos to Rachel Palinski on being selected for a postdoctoral position at the Plum Island Animal Disease Center, or PIADC, in New York. Palinski also is a Transboundary Animal Diseases, or TAD, fellow.
"Working at PIADC requires an in-depth knowledge of biosafety level-3 animal and laboratory practices along with knowledge of the agents themselves," said Palinski, who has a postdoctoral position in the College of Veterinary Medicine's diagnostic medicine and pathobiology department. "The information of the agents can be learned easily through research of published papers, however, learning BSL-3 animal and laboratory practices requires a more hands-on approach. I am extremely grateful to the TAD fellowship for teaching me to be an experienced BSL-3 laboratory scientist."
Palinksi said in addition to the BSL-3 practices provided by the fellowship, she was able to benefit from networking opportunities.
"I think this was a key to my successful acceptance of the postdoctoral fellow position," Palinski said.
"There were numerous times throughout the TAD fellowship in which you meet prominent and powerful scientists. It was one of these meetings during which I met and interacted with my PIADC advisers. I cannot say enough good things about the TAD fellowship and I would like to thank the members of the search committee and DHS for providing me with this experience," she said.