March 6, 2018
Applications due March 28 for $3,000 Morse Scholarship Award
Submitted by Sarah McGreer Hoyt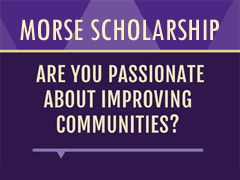 You want to make the world a better place. Why not start this summer?
K-State undergraduate students are encouraged to apply by March 28 for the Marjorie J. and Richard L.D. Morse Family and Community Public Policy Scholarship.
The $3,000 award supports a student with a summer project or internship. The work could be through a local, state or federal government or with a nonprofit organization.
The student's project can address a wide range of issues, but at its core, it must focus on strengthening families and building stronger communities. It also must encourage related public policy that improves the quality of family and community life.
Want to learn more about the award? Visit the website to learn about the application process and past winners.