February 23, 2018
Harner honored with induction to Hall of Fame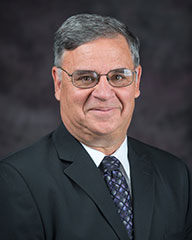 Joseph Harner, professor and department head of biological and agricultural engineering at Kansas State University, was inducted into the Rural Builder Hall of Fame at an awards luncheon Feb. 15 at the 2018 Frame Building Expo in Columbus, Ohio.
The award was presented to Harner in recognition of his "leadership, service and outstanding contributions to the rural construction industry."
The Rural Builder Hall of Fame was begun by the staff of Rural Builder magazine in 1982 as a way to honor individuals who have helped to grow the post-frame industry. Nominations are made by standing members of the Hall of Fame, with the final vote taken among all Hall of Fame members. Rural Builder magazine continues to oversee the annual process.
Additional information about the event and awards can be found online.