February 22, 2018
Academic Coaching program hosting ADHD awareness event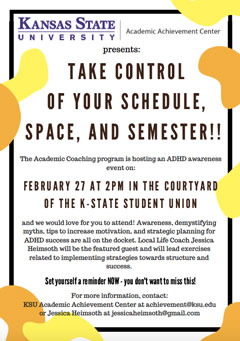 Take control of your schedule, space and semester!
The Academic Coaching program will host an attention deficit hyperactivity disorder awareness event aimed at spreading awareness and demystifying myths surrounding ADHD. The event will be at 2 p.m. Feb. 27 in the K-State Student Union courtyard.
Jessica Heimsoth, a local life coach with a specialty in ADHD, will be the featured guest and will lead exercises to implement strategies to achieve structure and success. Attendees also will have the opportunity to hear student testimonials regarding finding success while living with ADHD.
After receiving a bachelor's degree in English from K-State, she tried on several different career titles — including novelist and certified sommelier — before receiving an ADHD diagnosis and discovering a new passion. Since then, she has spent almost all of her free time studying ADHD and life coaching, graduated from the ADD Coach Academy, and dedicated her professional life to helping adults with ADHD overcome obstacles, discover dreams, and build futures that let them live to their full potential. She lives in Manhattan with her extremely non-ADHD husband, her German shepherd, and a baby girl on the way.
For more information, contact Scott Voos at scottvoos@k-state.edu.