February 22, 2018
Division of Biology presents Monserrate Roman Feb. 23
Submitted by Division of Biology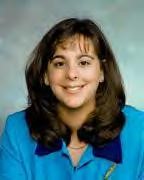 Monserrate C. Roman, chief microbiologist for NASA, will present "From Monitoring Microbes in the International Space Station to Building Houses on Mars: A Path that will Require the Contributions of a Diverse Community" as part of the Division of Biology Seminar Series at 4 p.m. Feb. 23 in 120 Ackert Hall.
Roman will present an overview of the development of the water, air systems and microbial monitoring systems currently operating in the International Space Station, from a scientist/microbiologist point of view. The path that led her from college to NASA will be discussed as well as the transition from scientist to NASA manager. Roman also will discuss the NASA program that invites the community to be involved in the development of technologies needed for the future missions to Mars.
If you would like to visit with Roman, contact Priscila Guzman at pguzman@k-state.edu.