February 21, 2018
Google Earth co-creator and native Kansan Brian McClendon to speak at K-State on Feb. 28
Submitted by Brent Fritzemeier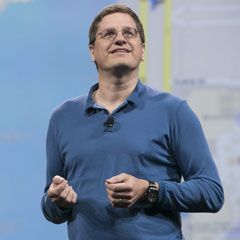 Brian A. McClendon, former vice president of engineering at Google, will speak at Kansas State University at 3:30 p.m. Wednesday, Feb. 28, in 1078 College of Business Building.
McClendon co-founded the startup that became Google Earth and famously made his hometown of Lawrence, Kansas, the centerpoint of the Google Earth globe. He built the teams and programs behind Google Earth, Google Maps, Streetview and Ground Truth, which revolutionized both mapping and the application of satellite and aerial imagery. He developed a world-class mapping program for Uber, enabling it to operate and compete more efficiently in the here and now, while simultaneously preparing for the coming dawn of autonomous driving.
McClendon returned from Silicon Valley to work with faculty and students at his alma mater, the University of Kansas. He advises and collaborates in big data and machine learning research, but also makes himself available to other departments including geography, urban planning, city management, education and transportation engineering.
McClendon has been honored for his work by the National Academy of Engineering, the American Geographical Society, and the United Nations. He was awarded an honorary doctorate of science in electrical engineering and computer science in 2016 by the University of Kansas and was inducted into the Hall of Honor at his alma mater, Lawrence High School.
McClendon makes public education in Kansas, particularly STEM education, the focus of his volunteer work. Additionally he works on issues of civic engagement and voter registration in Kansas. Brian and his wife Beth Ellyn McClendon live in Lawrence.