February 21, 2018
Applications due March 28 for $3,000 Morse Scholarship Award
Submitted by Sarah McGreer Hoyt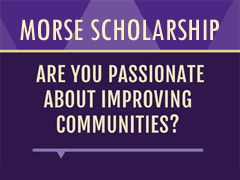 K-State undergraduate students are encouraged to apply by March 28 for the Marjorie J. and Richard L. D. Morse Family and Community Public Policy Scholarship.
The $3,000 award supports a student with a summer project or internship. His or her work could be through a local, state or federal government or with a nonprofit organization.
The student's project can address a wide range of issues, but at its core, it must focus on strengthening families and building stronger communities. It must also encourage related public policy that improves the quality of family and community life.
Last year's winner, Katelyn Bohnenblust, is a sophomore majoring in agricultural education. She used the scholarship to support her work on a new program called Training the Next Generation of Kansas Water Advocates, a conservation initiative and conference for Kansas teens.
Bohnenblust wrote curriculum for the program, mentored the participating high school students and helped organize a summer conference. Her work was coordinated through the Kansas Department of Agriculture.
Jane Schillie, special collections librarian and administrator of the Morse Scholarship Award, said that Bohnenblust's work truly fulfilled the aims of the scholarship.
"Water conservation is critical for maintaining the viability of rural, agricultural communities and for the families living in those communities," Schillie said. "And because Katelyn worked with a state agency and spread her message to a broad audience, her work could very well encourage the development of public policies that champion water conservation for future generations."
Projects don't have to be Kansas-based; they can take place anywhere in the world. Garrett Wilkinson, a recent Marshall Scholarship winner who won the Morse Scholarship in 2015, traveled to Narayanpur, Nepal, with the Open World Cause, a nonprofit organization.
"Our team was able to collect media documentation of a new school, distribute technology to the school's teachers, issue demographic questionnaires, distribute water filters to students' families, and more," Wilkinson said. "Summer projects like this are hard for most students to pursue, as they cost money and don't allow for working a summer job. The Morse Scholarship made it possible for me to pursue what I am passionate about without any worry for my financial situation."
To read more about past winners and access the online application, visit the Morse Scholarship Award website.