February 8, 2018
Retirement reception for Michelle Netson tomorrow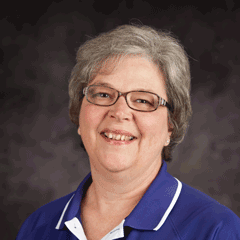 Housing and Dining Services invites the K-State community to join them as they celebrate the career of Michelle Netson, food systems project director. A reception will be from 3-4:30 p.m. Friday, Feb. 9, on the mezzanine at Kramer Dining Center
Netson served several roles in her nearly 30 years with the department. She first worked at Kramer Dining Center as a sanitation and production dietitian from 1976-1980. After raising a family of four girls, she returned to housing and dining services in 1995 as a manager at Derby Dining Center. In 2006, she moved from production management to project management as she oversaw the department's transition to the Computrition computerized inventory and menu management system, which she has managed in the years since.
"We will remember her based on the extraordinary personal relationships that she built with all of us," said Mark Edwards, unit director for Derby Dining Center. "Think of the courage it takes to be that open, that vulnerable yet friendly, that compassionate with so many people! Michelle was a friend to and empathetic manager of some of the greatest people K-State has working for them — dining service employees."
Read more of Netson's story.
Please come and share your own memories and wish her well.