February 15, 2018
SGA Accelerated Fellowship Program meets tonight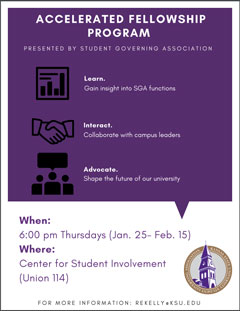 The Student Governing Association Accelerated Fellowship Program will meet at 6 p.m. Thursday, Feb. 15, in the Center for Student Involvement, Room 114 of the K-State Student Union.
The program was created due increased demand from the student body for Student Governing Association to provide an outlet for students to learn about SGA and its methods of involvement.
Jordan Kiehl, chief of staff for SGA, will host this session on the Executive branch. The session will speak to the functions of the branch, as well as explore some of their ongoing initiatives. Participants will start developing their own projects and have the opportunity to network with SGA directors. Students filing for student senate also can receive assistance at the session.
If you have any questions, email Ryan Kelly, program chair, at rekelly@k-state.edu.