February 15, 2018
Students at KSDB take first place in national competition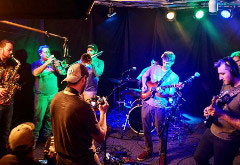 Students at KSDB-FM, K-State's student-run radio station, won first place in the 2017-2018 Broadcast Education Association Festival of Media Arts.
Steven Asper, Dylan Swoyer and James Copeland won first place in the Sound Engineering and Production category for work on the "KSDB Classroom Series" with a recording of the band Gekko from Kansas City.
The Broadcast Education Association received more than 1,540 entries this year. KSDB's submission ranks in the top 20 percent of the category entered.
"The Classroom Series" is a recurring production on KSDB, featuring bands from across Kansas and the United States who come to Manhattan to perform live on the air from KSDB's McCain Auditorium studios.
KSDB Operates 24/7/365 from McCain Auditorium and broadcasts live on 91.9 FM, online at ksdbfm.org, on iOS and Android, TuneIn, Amazon Echo and campus cable 42.1.
Videos from past episodes of the classroom series can be found online.