December 12, 2017
Call for graduate student abstracts: K-State Graduate Research, Arts, and Discovery Forum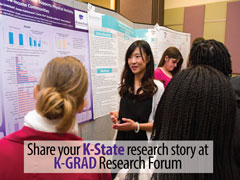 The Graduate Student Council invites all K-State graduate students to participate in the 2018 K-State Graduate Research, Arts, and Discovery, or GRAD, Forum on March 29, 2018, in the K-State Student Union.
The K-State GRAD Forum is an annual showcase of K-State graduate student research, scholarly work and discovery. This on-campus event provides graduate students from all disciplines an opportunity to share their work with the K-State community and to gain experience presenting their work in a professional setting.
Students may give either a poster or an oral presentation.
K-State faculty judges will select the top presenter to receive a scholarship award in each of a variety of categories. The types and number of awards to be distributed will depend on participation and funding. Additional details will be provided at a later time.
The abstract submission deadline is 11:59 p.m. Friday, Dec. 22.
Visit the Graduate Student Council research forums website for abstract submission instructions and information about registering.