October 30, 2017
Violin Week, Nov. 2-9, features British and American music in performances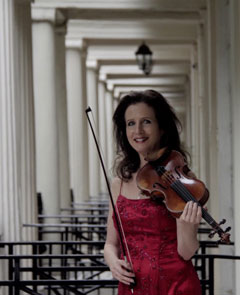 K-State Violin Week presents four free events between Nov. 2-9, featuring guest artists, students and faculty in performance. All events are open to the public.
• "Hands Across the Water: British and American Music," 7:30 p.m. Thursday, Nov. 2, in Kirmser Hall. Violin and viola students from the studio of Cora Cooper will perform a varied program of short pieces composed by American, English, and Australian composers, accompanied by pianist Alicia Willard.
• "Music by American Composers," 2 p.m. Saturday, Nov. 4, in Kirmser Hall. Guest Artists Ting-lan Chen, violin and Nathan Buckner, piano. Faculty members at the University of Nebraska at Kearney, Chen and Buckner will perform works by Reinagle, Ives, Beach and Goldmark.
• Violin and Viola Master Class with Madeleine Mitchell, 7:30 p.m. Wednesday, Nov. 8, in Kirmser Hall. Violinist Madeleine Mitchell, professor at London's Royal College of Music, will coach K-State students of Cora Cooper on performances of music by Rebecca Clarke and Edward Elgar. The master class is sponsored by a grant from the British Music Society.
• "A Century of British Music," 7:30 p.m. Thursday, Nov. 9, in All Faiths Chapel Auditorium. Guest Artist Madeleine Mitchell, violin. We welcome Mitchell back, after her 2012 visit, for another wonderful recital of British music. The program includes pieces specifically written for her, including a set of violin duos by Judith Weir, Master of the Queen's Music. Mitchell will be assisted by K-State faculty Amanda Arrington, piano, and Cora Cooper, violin. The concert is sponsored by the School of Music, Theatre, and Dance. Learn more about Mitchell's career, and come meet the artists at a reception in McCain's Leavengood Courtyard following the performance.