October 17, 2017
US Dept. of Education grant to provide tuition assistance for Pell Grant-eligible student parents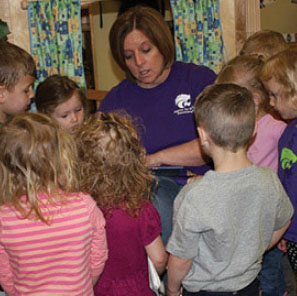 The Center for Child Development has received a $538,000 grant through the U.S. Department of Education that will provide tuition assistance and free parenting classes to Pell Grant-eligible students who have children.
The four-year grant, part of the Child Care Access Means Parents in School nationwide program, will help the center provide student parents with peace of mind, more time with their children, the chance to show kids the value of higher education and more, according to Rosie Mitchell, director of Kansas State University's Center for Child Development.
"I'm excited about awarding these funds to K-State students to help them finish their degrees without worrying about their children's care," Mitchell said. "I hope this grant will bridge the gap for low-income students and improve their quality of life during their time at K-State."
In previous years, the center has received smaller amounts of this grant, including one that covered 30 percent of tuition for recipients. In contrast, this year's award, which is the largest the center has received, will cover up to 75 percent of tuition for recipients. Also, the grant moves recipients to the top of the center's wait list, which sometimes has more than 50 families, to provide qualified students with priority enrollment for their children.
Additionally, the grant provides parenting education classes for free. The classes will be taught by early childcare experts from the university and the community.
The grant is helpful not only to K-State students but also to their children, who are always watching and learning from their parents, according to Derek Jackson, assistant vice president for student life.
"There is a double whammy of benefit because it's important for children to see their parents pursuing higher education," Jackson said. "Generations of people may be impacted by this student getting an education, and children watching their mothers and fathers working toward degrees. I think this could have a long-term effect."
The center is unique among day care providers because of its research-based, nature-focused curriculum and its National Association for the Education of Young Children accreditation, which is awarded to only about 4 percent of child care centers nationwide.
"We are proud of our nature-focused curriculum because research shows children who spend time outside are more successful and calm," Mitchell said. "With this curriculum and our national accreditation, we hope parents know their children are getting high-quality child care."