October 17, 2017
K-State Athletic Director Gene Taylor to speak as part of Sports Marketing Speaker Series
Submitted by Brent Fritzemeier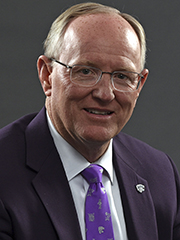 Gene Taylor, director of athletics for Kansas State University, will speak as part of the MKTG630 Sports Marketing Speaker Series on Thursday, Oct. 19.
The presentation will begin at 11:30 a.m. in Kansas State University's Business Building Lecture Hall. The public is welcome to join the students of the class for the event — no ticket is required.
The Sports Marketing Speaker Series is organized by Doug Walker, associate professor of marketing, as part of the curriculum for his MKTG630: Sports Marketing class.