September 28, 2017
Robyn Ochs to present 'Beyond the Binaries: Sexuality and Identity'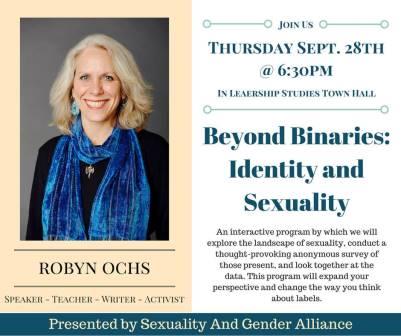 The Sexuality and Gender Alliance at K-State presents "Beyond the Binaries: Identity and Sexuality" by Robyn Ochs at 6:30 p.m. Sept. 28 in Town Hall of the Leadership Studies Building.
This event will be an interactive program that explores the landscape of sexuality, conducting a thought-provoking examination of sexuality and identity. This program expands the perspectives of how identity labels are socially constructed and intersect with other individual identities.
This event also qualifies as a K-State 360 event, so please bring your K-State ID to swipe in for credit!