September 28, 2017
Koochel selected as 2017 AFCPE Outstanding Symposium Poster award winner
Submitted by College of Human Ecology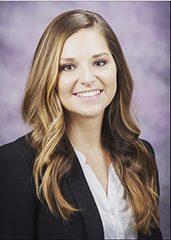 Emily Koochel, doctoral student in applied family science, was selected as the 2017 Association for Financial Counseling and Planning Education's Outstanding Symposium Poster award winner for her proposal, "Financial Transparency Scale Development."
To increase the capacity to study the role of finances in the marital relationship, Koochel developed the Financial Transparency Scale to assess financial transparency between married partners. Koochel developed this new scale after seeing that there was currently no scale available to measure financial transparency.
Koochel will present her poster on Nov. 15 at the association's symposium in San Diego, California.