September 14, 2017
First fall Lou Douglas lecture to address ending rape on college campuses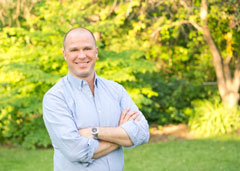 Keith Edwards, speaker, educator and leadership coach, will present this season's first lecture in the Kansas State University Lou Douglas Lecture Series on Public Issues at 7 p.m. Tuesday, Sept. 19, in Forum Hall at the K-State Student Union.
Edwards' talk, "Ending Rape: Addressing the Roots of Sexual Violence Prevention," will discuss the issue of rape culture on college campuses and offer ways that communities can be actively involved in combating the perpetuation of sexual violence. He will explore the role that men play and attempt to motivate them to be proactive when identifying issues of sexual violence. Edwards also will offer a critique of the current methods in which campus rape is being approached both on campus and throughout society as a whole.
A workshop for student services staff and others who are interested will be from 9:30-11:30 a.m. Sept. 19 in the Tallgrass Ballroom at Kramer Dining Center. Call Linda Teener at 785-539-8763 for more information.
Edwards received his doctorate from the college student personnel administration program at the University of Maryland. His dissertation, "'Putting my man face on': A grounded theory of college men's gender identity development," was recognized as Dissertation of the Year by ACPA — College Student Educators International in 2008.
He continues to pursue his passions of diversity, social justice education and college men's issues through his work as an educator and speaker. Currently, Edwards is working on co-editing a book that addresses sexual violence prevention and response in higher education.
The Lou Douglas Lecture Series is dedicated to Lou Douglas, a distinguished professor of political science at K-State from 1949-1977. Douglas was widely known for his power to inspire students, faculty and citizens to instigate change. He also was one of the founders of UFM Community Learning Center. After his death in 1979, the organization began a lecture series to honor him.