September 14, 2017
Watkins named a James Beard Foundation National Scholar
Submitted by College of Human Ecology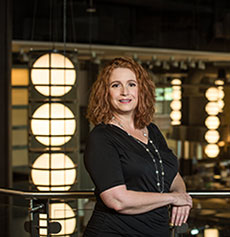 Tracee Watkins, doctoral student in human ecology, was recently awarded one of the culinary world's top scholarship honors. Watkins was named a 2017 James Beard Foundation, or JBF, National Scholar for her work in food safety and child nutrition programs.
The James Beard Foundation National Scholars Program, now in its second year, awards scholarships of up to $20,000 to those who demonstrate the potential for leadership roles in culinary arts, food studies, agriculture, hospitality management and related fields.
"James Beard was one of the most influential chef educators in modern American cookery," Watkins said. "The James Beard Foundation's educational initiatives have inspired a generation of food industry professionals, and it is a true honor to be recognized as one of the 10 JBF National Scholars in 2017."
The National Scholars Program is part of the larger James Beard Foundation Scholarship Program, which is awarding nearly $680,000 in financial aid in 2017. Established in 1991, the scholarship program assists aspiring and established culinary professionals who plan to further their education at a licensed or accredited culinary school or hospitality institution, college, or university.
Watkins plans to graduate in May 2018.