September 7, 2017
InterVarsity Christian Fellowship and Native InterVarsity to host fry bread meal Sept. 9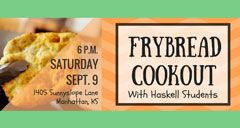 From 6-8 p.m. Saturday, Sept. 9, InterVarsity Christian Fellowship, a registered student organization, and Native InterVarsity will host a fry bread meal at 1405 Sunnyslope Lane in Manhattan.
Students and faculty, especially those with indigenous heritage — including Native American, Inuit and Native Hawaiian, among others — are welcome to come enjoy fry bread tacos and Akutaq. A discussion about Native culture, what it's like to be an indigenous person at K-State, and how Christianity intersects with Native American, Inuit and Native Hawaiian cultures will follow.
The event will be co-hosted with students and InterVarsity staff from Haskell Indian Nations University, and Megan Murdock Krischke, national director of Native Ministries for InterVarsity. Participants are welcome to bring a lawn chair or blanket and come hungry.