September 1, 2017
Win a YETI cooler with Powercat Financial's 'YETI SET GO!' online scavenger hunt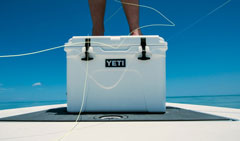 Powercat Financial wants to get all students involved — including Global Campus students — so join us in our online scavenger hunt to learn about the financial resources around you on campus. Since YETI coolers are very popular we have designed a scavenger hunt with a grand prize of a YETI Roadie cooler.
The form must be completely and correctly filled out and submitted by 5 p.m. Sept. 15 in order to be eligible for a chance to win a YETI Roadie cooler, 30-ounce YETI tumbler or 20-ounce YETI tumbler. Click here to start the hunt.
This form counts as one entry into the drawing and you may only enter once. There will be three winners. You must be a current student or distance student to participate.
Winners will be announced by email on Sept. 18 so the lucky winners can use their YETI prizes at home football games.
Mark your calendar to attend our upcoming events:
• Eating Healthy on a Budget workshop at 5:30 p.m. Monday, Oct. 9, in Room 227 of the K-State Student Union. Learn how to set up a budget that constitutes healthy choices and have a chance to win free groceries.
• Thrifty Gifting event at 4:30 p.m. Thursday, Nov. 9, in the K-State Student Union's Flint Hills Room. Play games, learn how to save during the holidays and win more prizes.
Email Powercat Financial at powercatfinancial@k-state.edu if you need assistance.