September 1, 2017
Alpha Phi Omega hosting #TacoForTexas fundraiser Sept. 5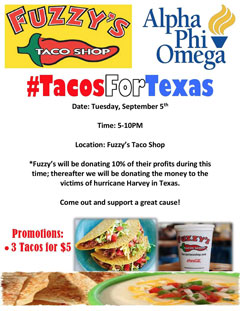 Alpha Phi Omega will have a #TacoForTexas fundraising event from 5-10 p.m. Sept. 5 at Fuzzy's Taco Shop. Fuzzy's will donate 10 percent of its profits during this time; thereafter Alpha Phi Omega will donate the profits to the victims of the hurricane in Texas.
Alpha Phi Omega is a national coed service fraternity dedicated to promoting leadership, friendship and service among young men and women in universities and colleges all across the United States and the Philippines. Alpha Phi Omega's purpose is to develop leadership, promote friendship and provide service to humanity.
Alpha Phi Omega is an official registered student organization.
Contact Moriah Clark at Moriah3@k-state.edu with any questions.