April 26, 2017
Annual Joe Tiao Lecture on Economic Issues Thursday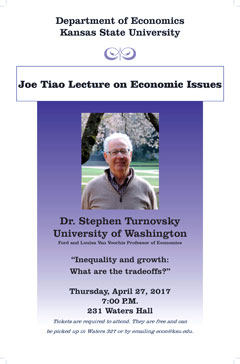 Stephen Turnovsky from the University of Washington will present the annual Joe Tiao Lecture on Economics Issues at 7 p.m. Thursday, April 27, in 231 Waters Hall.
Turnovsky will present "Inequality and Growth: What are the Tradeoffs?"
Tickets are required to attend the lecture and can be picked up for free in 327 Waters Hall.