April 26, 2017
K-State inventors recognized
The Office of the Vice President for Research and the Kansas State University Research Foundation hosted a reception last week to honor K-State inventors and breeders who were issued patents or plant variety protection certificates in 2016. Honorees received patent plaques, and first-time inventors received certificates and pins from the National Academy of Inventors.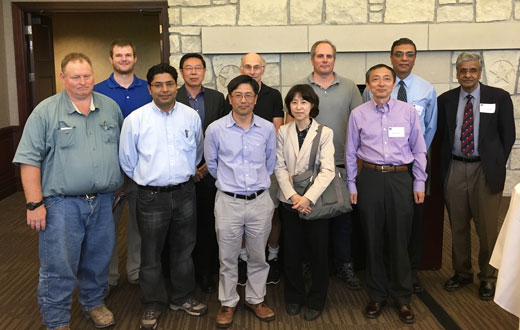 2016 K-State inventors are as follows. Inventors who achieved patents in 2016 but have since left the university are not listed.
Bret Flanders: Electrochemically-grown nanowires and uses thereof
Harold Trick and Timothy Todd: Composition and methods for controlling parasitic nematodes
Sanjeev Kumar Narayanan, Tiruvoor Nagaraja and Muckatira Chengappa: Composition and methods for detecting, treating, and protecting against Fusobacterium infection
Kyeong-Ok Chang and Yunjeong Kim: Macrocyclic and peptidomimetic compounds as broad-spectrum antivirals against 3C or 3C-like proteases of picornaviruses, caliciviruses, and coronaviruses
Jun Li: Lithium-ion battery anode including core-shell heterostructure of silicon coated vertically aligned carbon nanofibers
Jun Li: Energy storage devices
Xiuzhi Susan Sun and Donghai Wang: Pressure sensitive adhesives, coatings, and films from plant oils
Christopher Sorensen and Arjun Nepal: Process for high-yield production of graphene via detonation of carbon-containing material
Gurpreet Singh: Boron-modified silazanes for synthesis of SiBNC ceramics
Yong-Cheng Shi: Starch esters and method of preparation
Steven Bellinger, Brian Cooper, Ryan Fronk, Douglas McGregor and John Shultis: Apparatus and method for the determination of one or more neutron source characteristics
Kyeong-Ok Chang, Yunjeong Kim, and Duy Hua: Broad-spectrum antivirals against 3C or 3C-like proteases of picornaviruses, caliciviruses, and coronaviruses
Harold Trick: Transgene construct to improve Fusarium head blight resistance in wheat and barley
Michael Stamm: 'DKW45-24' winter canola
Andrew Auld, William Bockus, Erick DeWolf, Allan Fritz, Angela Matthews, Jesse Poland, Rebecca Regan, Kimberly Suther, Shaun Winnie and Guorong Zhang: 'KanMark' wheat variety
Jeffrey Ackerman, Allan Fritz, Terry Martin, Rebecca Regan, Kenneth Rohleder, Clayton Seaman, Dallas Seifers, Andrew Stegman and Guorong Zhang: 'Joe' wheat variety
Peter Dorhout, vice president for research, was pleased to honor a strong group of innovators.
"K-State has a long history of invention, and this year's group of innovators demonstrates the commitment our faculty, students, and staff make to both basic and applied research that can improve people's lives in many ways, from fighting disease and improving electronics to perfecting crop varieties to help agricultural producers succeed," Dorhout said.
Chris Brandt, president of the Kansas State Research Foundation, known as KSURF, said he enjoyed working with the inventors.
"A granted patent is an important step on an inventor's journey of protecting an innovation and giving it the best chance to reach the marketplace, and we hope to encourage more professors and inventors to engage with KSURF and start building their IP portfolio," Brandt said.